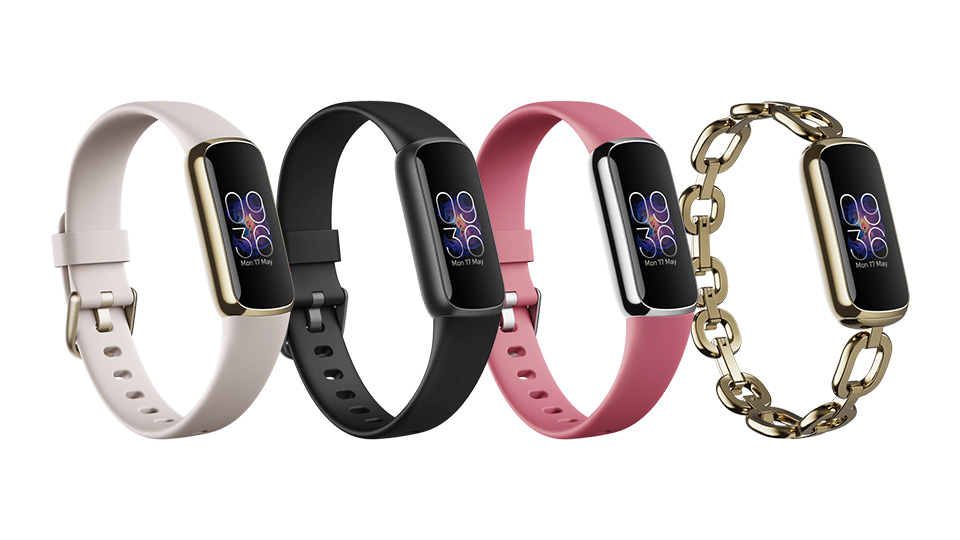 Fitbit is going to release a new line of fitness & wellness wristband gear more towards fashion and tracks just the essentials, with up 5-day battery life.  A 6 month trial of Fitbit Premium is also included, which you can keep for $9.99/month or cancel at the end of the trial.  You can choose from 4 different styles/colors, one size fits all, and ships starting in late May 2021 with a price tag starting at $149.95.  There is a 1-year limited warranty with the option to add a 2-year Protection Plan with Accidental Damage Coverage for $29.99.
The Luxe is gear towards women for both work, play, or a night on the town, depending on which band you choose the wear, Stainless Steel, Platinum Stainless Steel, Soft Gold Stainless Steel, Leather, Woven, and more.
Feathers include 24/7 Heart Rate, Oxygen Saturation (SpO2) Monitoring, Real-Time Pace & Distance, 20 Exercise Modes + SmartTrack, Swimproof + Swim Tracking, Menstrual Health Tracking, Stress Management Tools, Guided Breathing, Sleep Score, Call, Text & Smartphone Notifications, Do Not Disturb Mode, Timer & Stopwatch, just to name a few.
The Fitbit app is compatible with most popular phones running Apple iOS 13.3 or higher or Android OS 8.0 or higher.
Chard View
This is a new line from Fitbit that's aimed towards women and in the fashion line.  I can also see that in the features included in the device.  Too bad it won't be released until late May 2021, it probably would have made a great Mother's Day gift.