Well the event is all over and Apple finally reveal the first set of new products for 2021, which includes a newly redesigned 24-inch (23.5 in) Apple M1 chip iMac, you get 4 colors to choose from (Blue, Green, Pink, Silver) at $1299 & 7 colors (Blue, Green, Pink, Silver, Yellow, Orange, Purple) at $1499 (256GB SSD model) & $1699 (512GB SSD model).   Total memory is up to 16GB.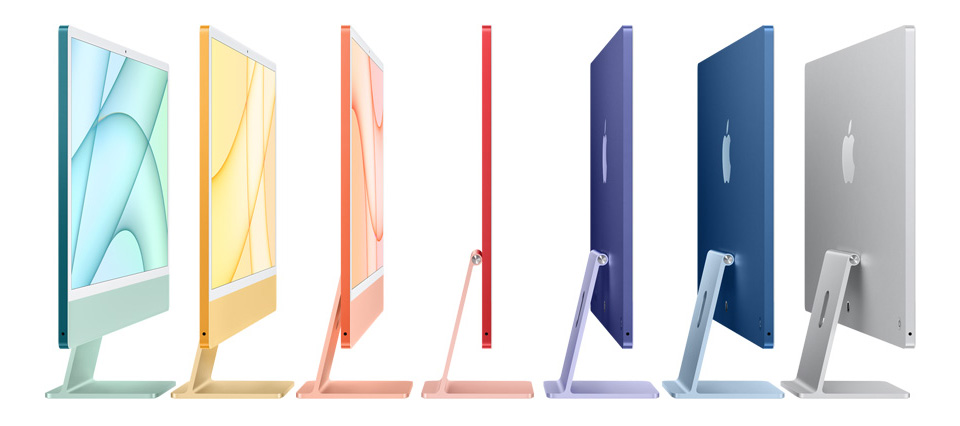 The 24-inch (23.5 in) is a 4.5K Retina display at a resolution of 4480-by-2520 pixels & there's a 1080p FaceTime HD camera on top of the display. Audio features High-fidelity six-speaker system with force-canceling woofers. Connectors on the back include Two Thunderbolt / USB 4 ports with support, Gigabit Ethernet is built into the power adapter, but you can still connect wirelessly through WiFi 6 & Bluetooth 5.0.  Speaking of the power adapter, it now connects to the back of the iMac magnetically.  Total weight range from 9.83 pounds (4.46 kg) to 9.88 pounds (4.48 kg), depending on which model you get. Finally, the keyboard, mouse & trackpad are color-coordinated with the color iMac you choose, there are also three different keyboard choices, the regular keyboard, keyboard with touch ID, & keyboard with number pad.  You will be able to place your order on 4/30/2021 & your new iMac will be available second half of May.
Chard View
I've been looking forward to the new iMac, but not this one, it's much thinner & faster, but I'm looking for something with more power (Apple M2 or M1X chip) and more screen real estate 27-inch possible a 32-inch and definitely more configurable memory up to at least 64GB since I can not add more memory after purchase. Last but not least, the colors are great, more like back to the original iMac, but please bring back the space-gray color option, that's the one I like.  Let's hope Apple reveals the iMac Pro at WWDC 2021, with what I'm looking for, and then I'll be ready to swipe my card.